OSU Design Course:
User Experience Design​​​​​​​
Canopy is a proposal for an app for Ohio State students to discover events and meetings hosted by student organizations. Drawing reference from the existing "Ohio State: Discover" iPad app, this re-imagining provides personalized suggestions for involvement, based on an initial interest survey, community-based identities, and post-event feedback, continuously promoting new ways to experience campus life.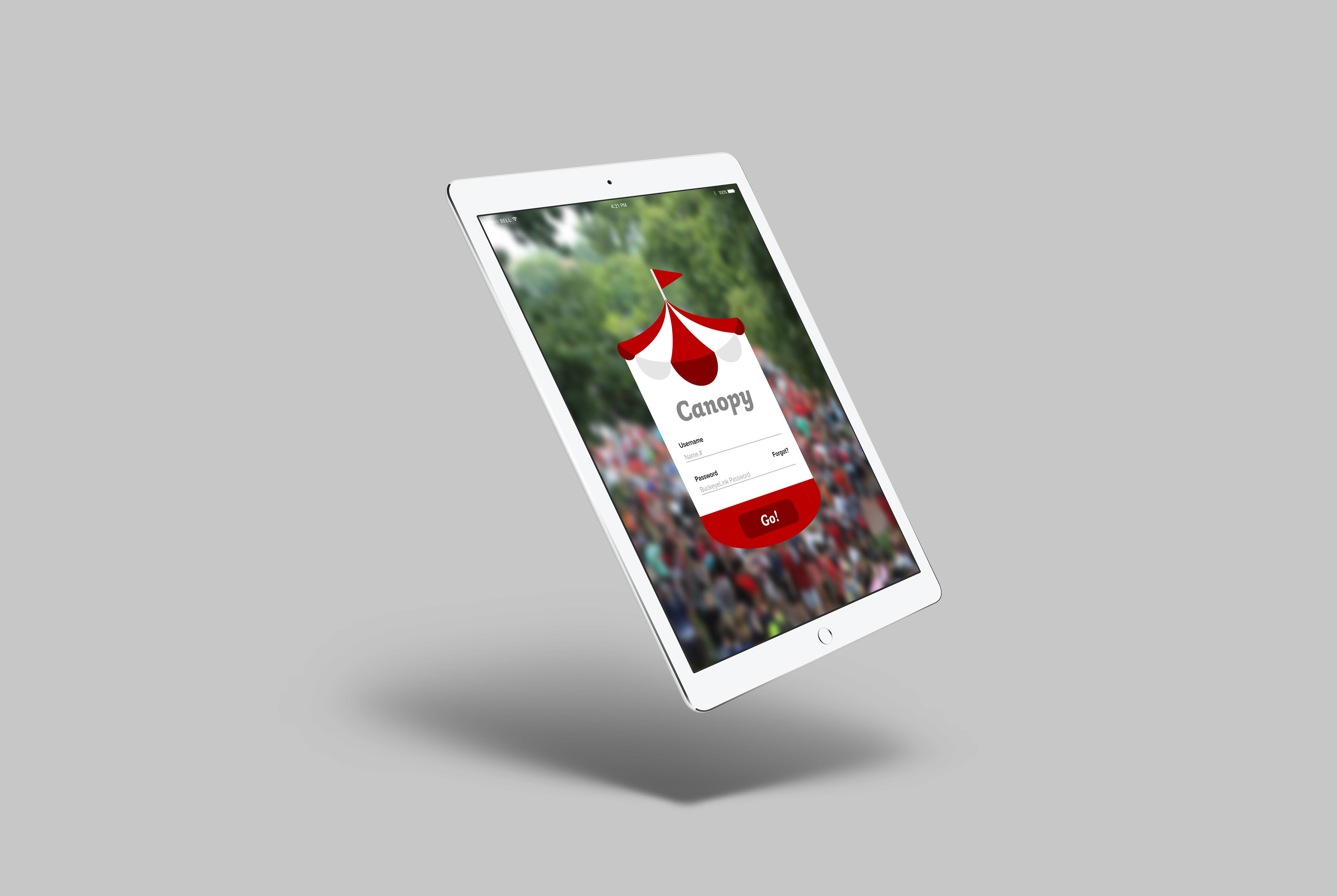 In the fall of 2018, Ohio State launched its Digital Flagship Initiative, in which each new freshman student received a new Apple iPad at orientation. The OSU app development team created an app called Ohio State: Discover, which was pre-loaded onto each iPad before given to students. One section of this app is called "Get Involved!" which students can utilize to find a complete list of the university's student clubs.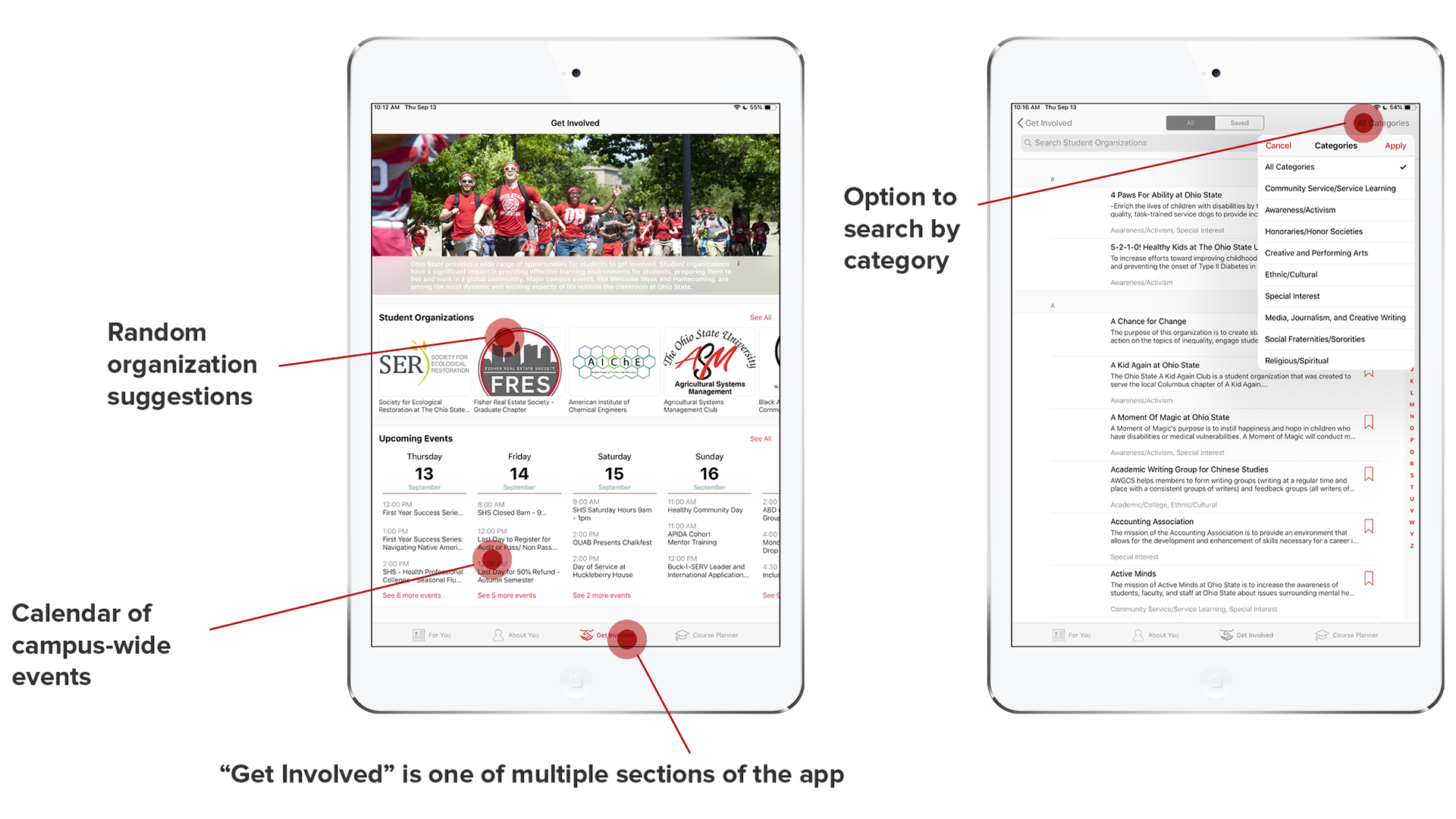 Serving as a stakeholder for this project, Ohio State Digital Flagship employee Nick Romanawski identified the following goals for the iPad app redesign:
​​​​​​​Secondary 
Research
: Competitor Analysis
I conducted an analysis of 3 popular event apps, in efforts to define the navigation, usability, aesthetic, and functioning goals of my app. Pink comments reflect elements that I found unsuccessful.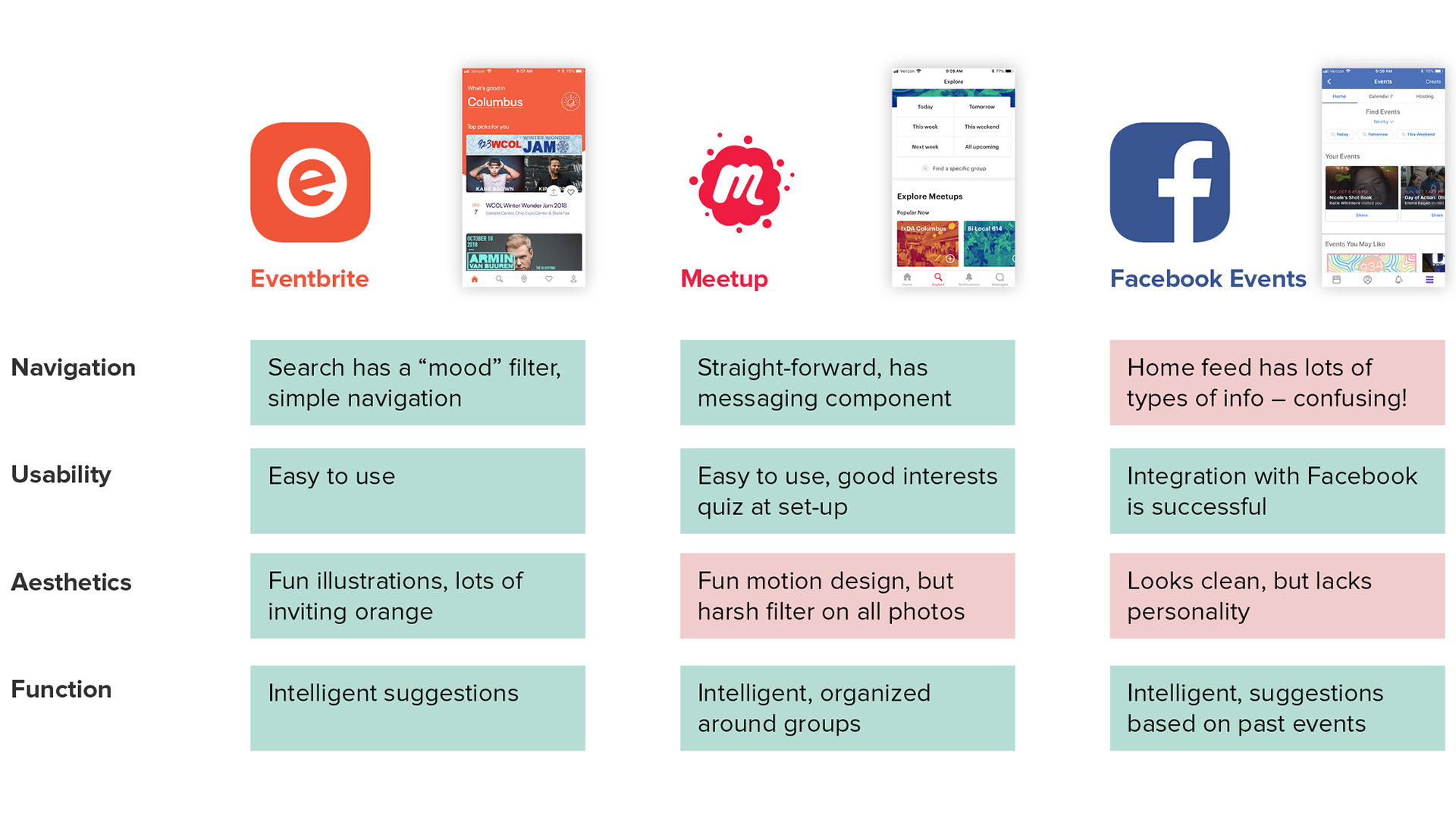 Primary ​​​​​​​
Research
: Digital Survey
31 upperclassmen student organization leaders participated in my digital survey about membership.

​​​​​​​Primary 
Research
: Student Interviews
Summarized below are interviews I conducted with both underclassmen and upperclassmen in leadership positions in their student organizations. I asked about the issues surrounding student organization membership on campus.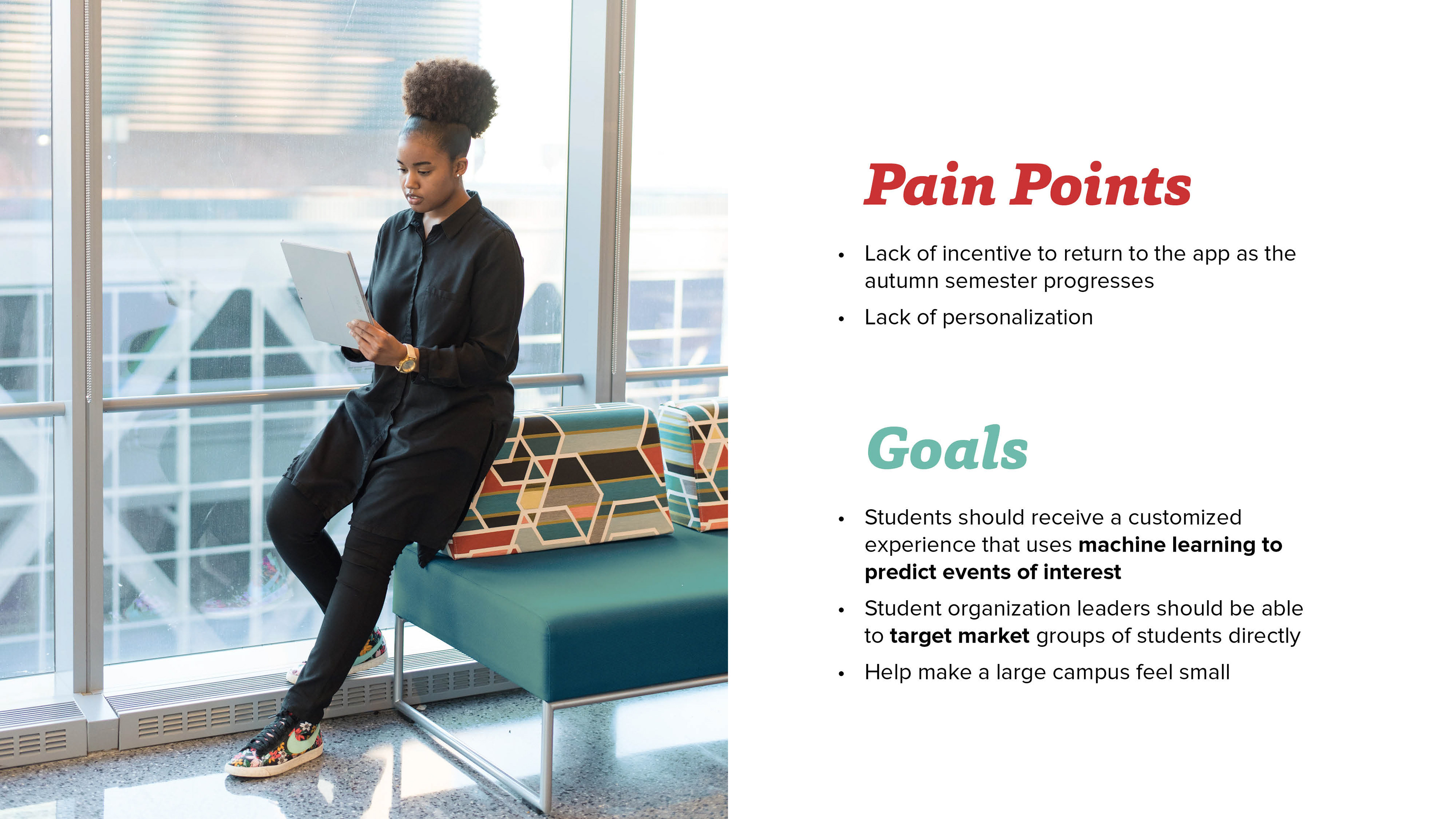 I created four fictional archetypal characters that would guide the remainder of the design of the Canopy app. Each persona is based off of real college students who participated in interviews in my research.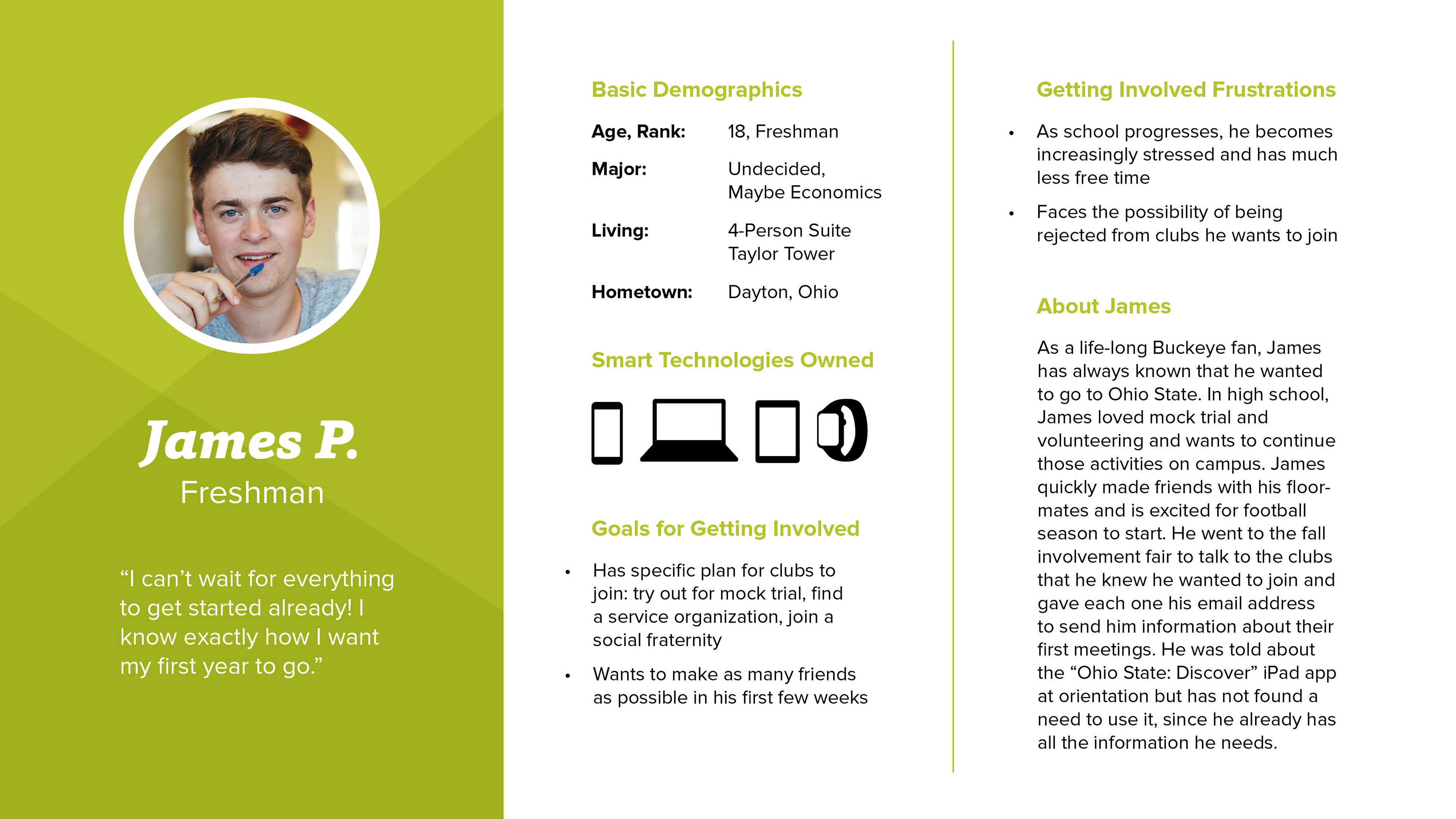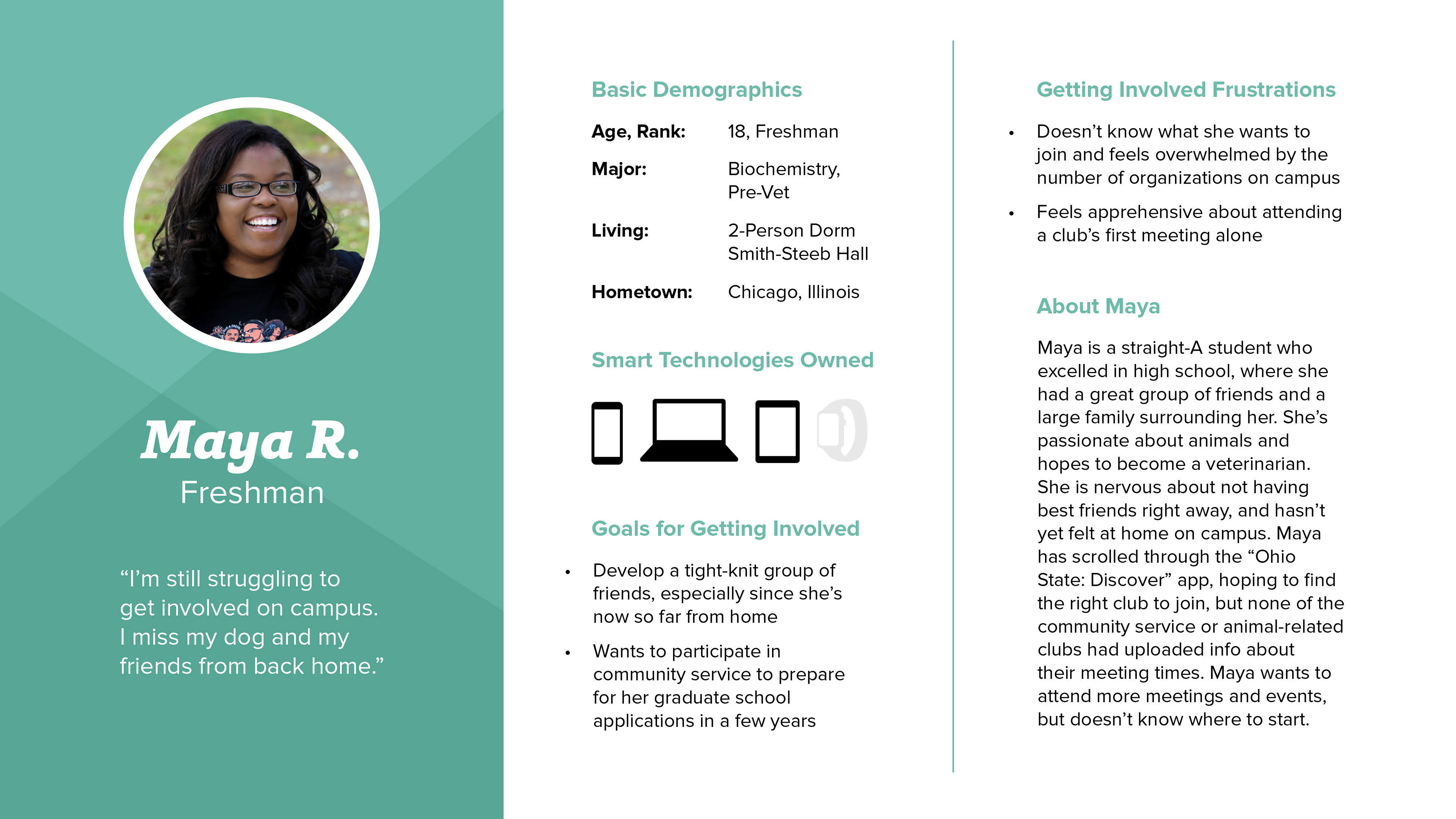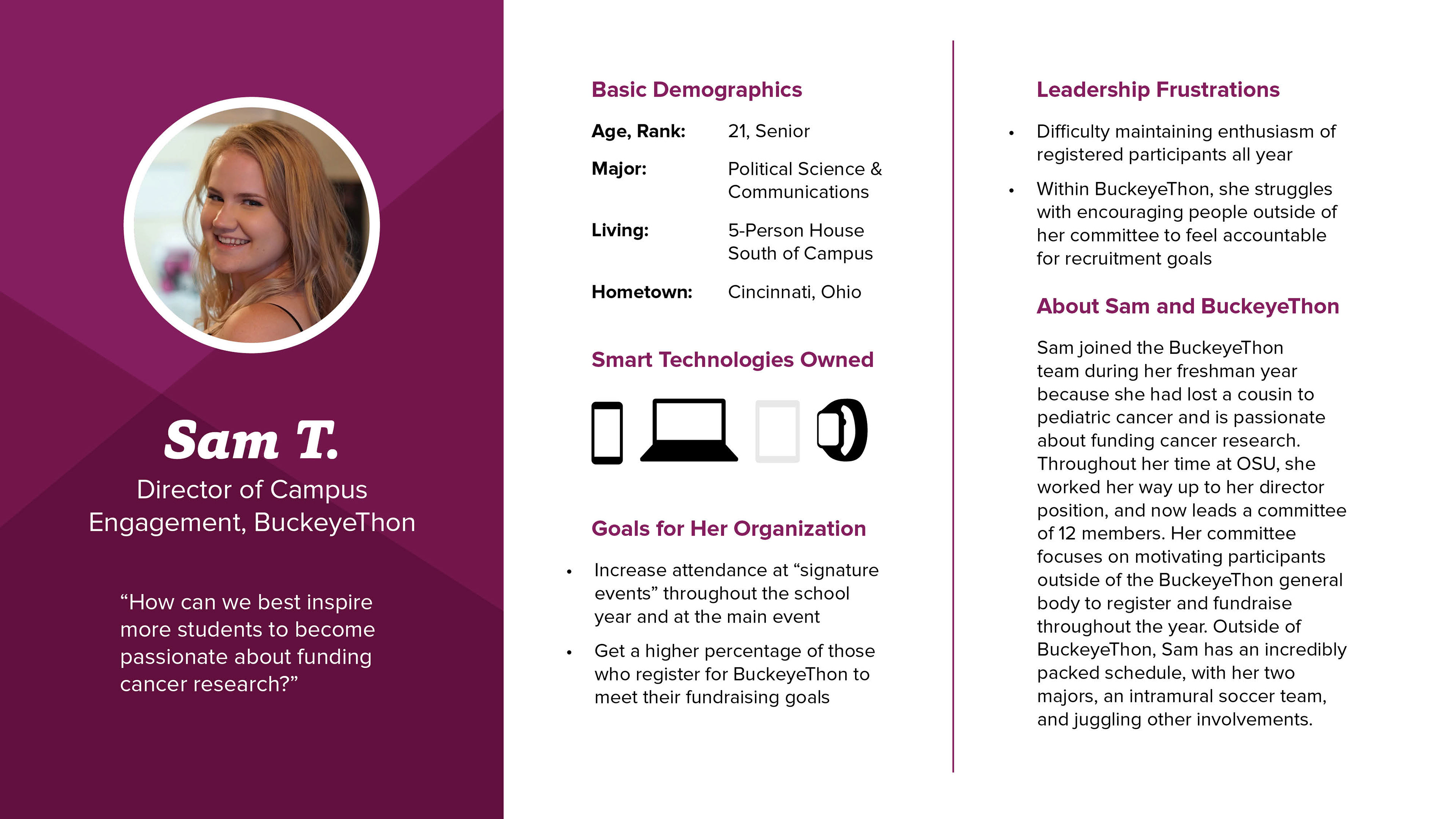 The flowchart below shows the expected use of the app by each of the four characters developed in the user personas.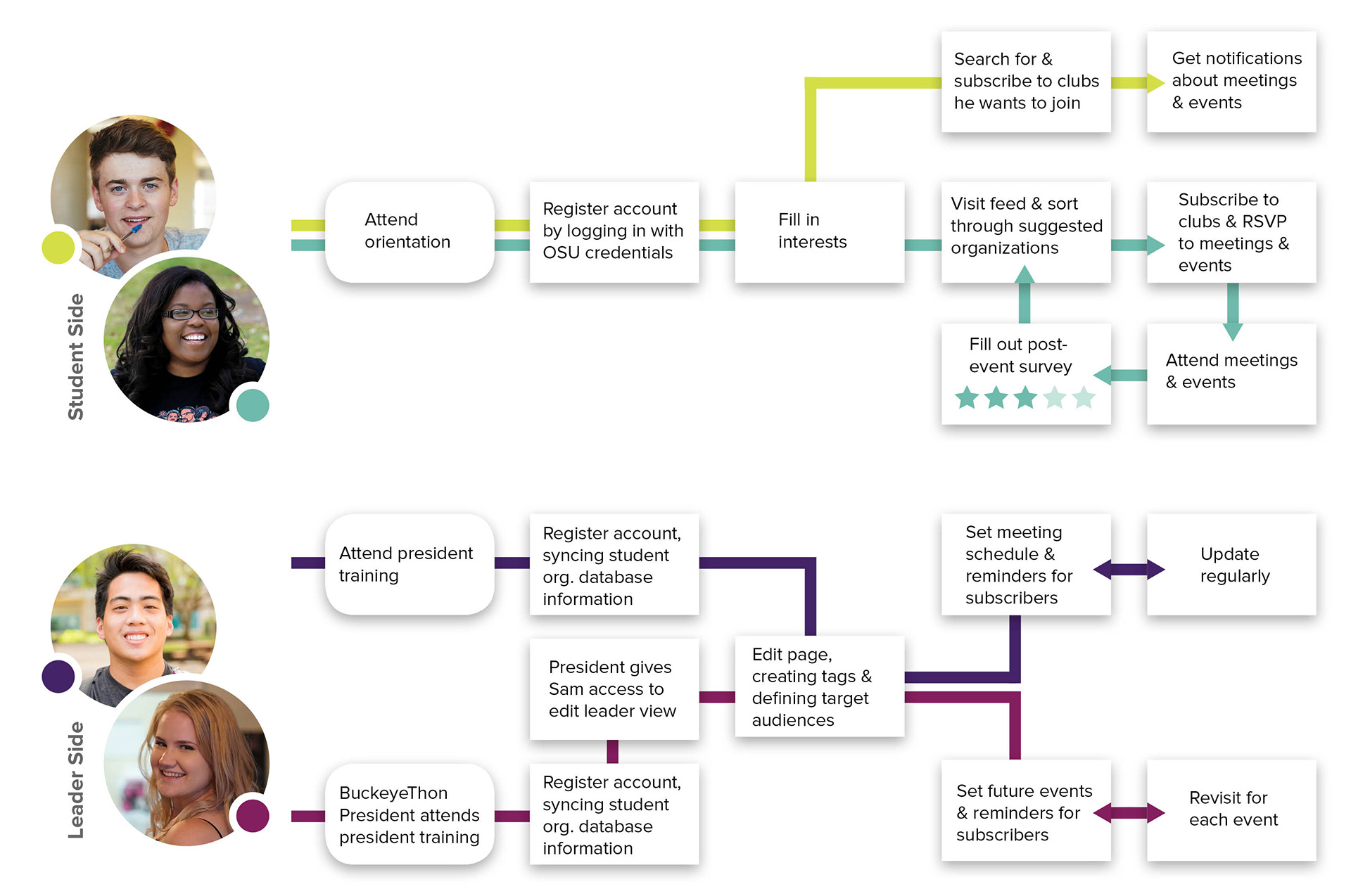 Based on my research, persona studies, and user journeys, this sitemap organizes the pages of the Canopy iPad app. For the remainder of the project, I focused on developing the student side of the app.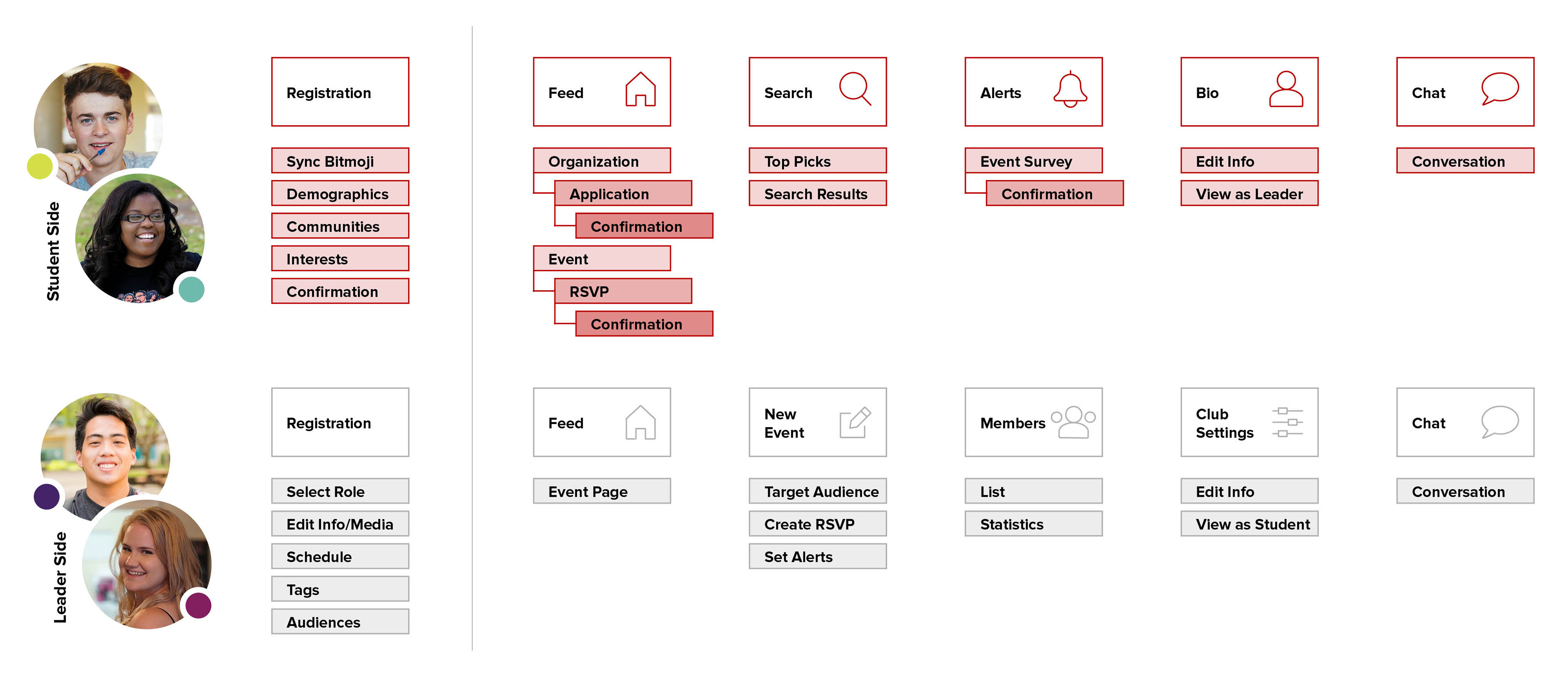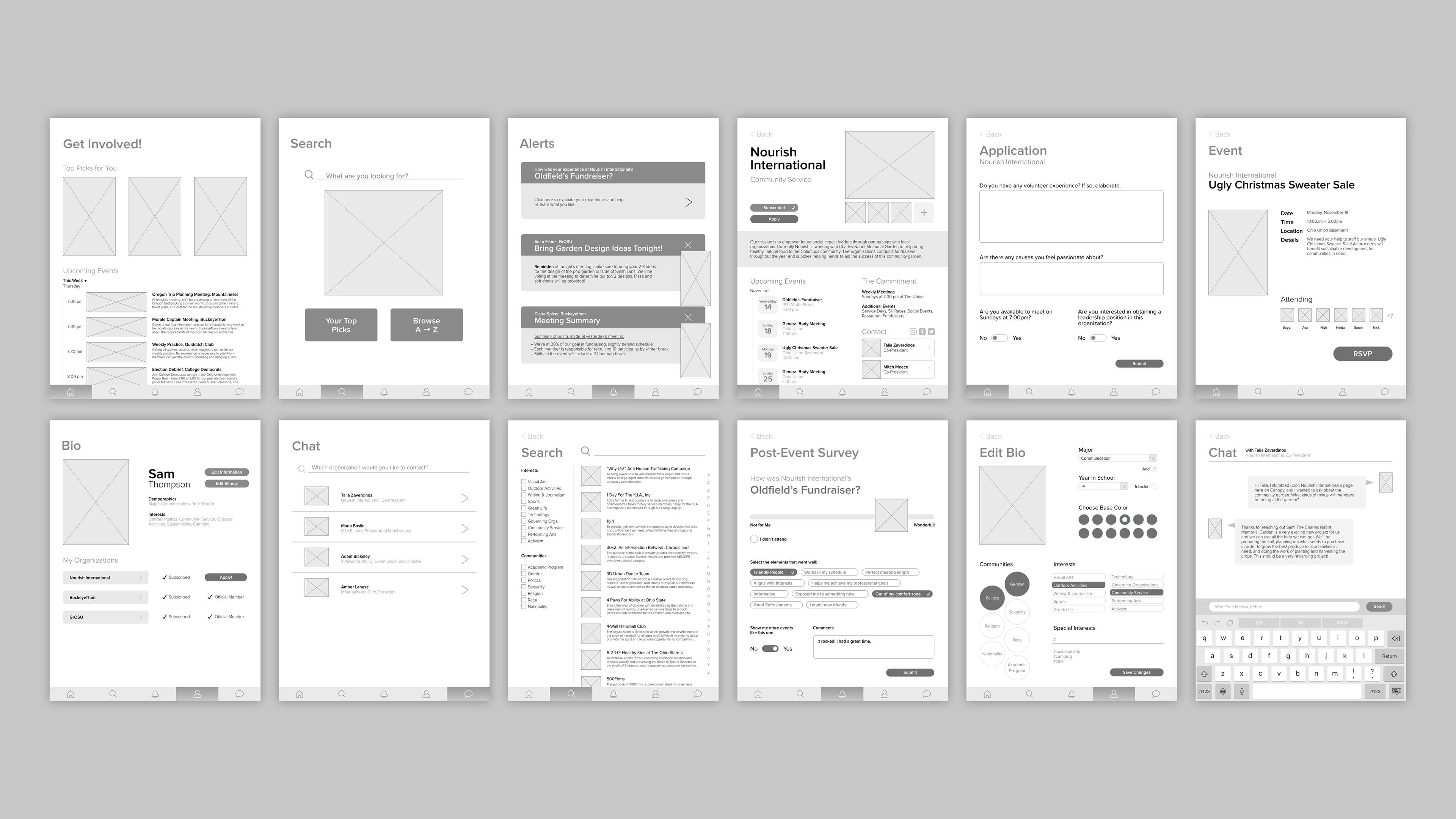 Canopy refers to the scarlet tents set up for the annual Fall Student Involvement Fair where students can meet organization leaders and receive information about meetings. Canopy seeks to digitize these interactions for the other 364 days of the year.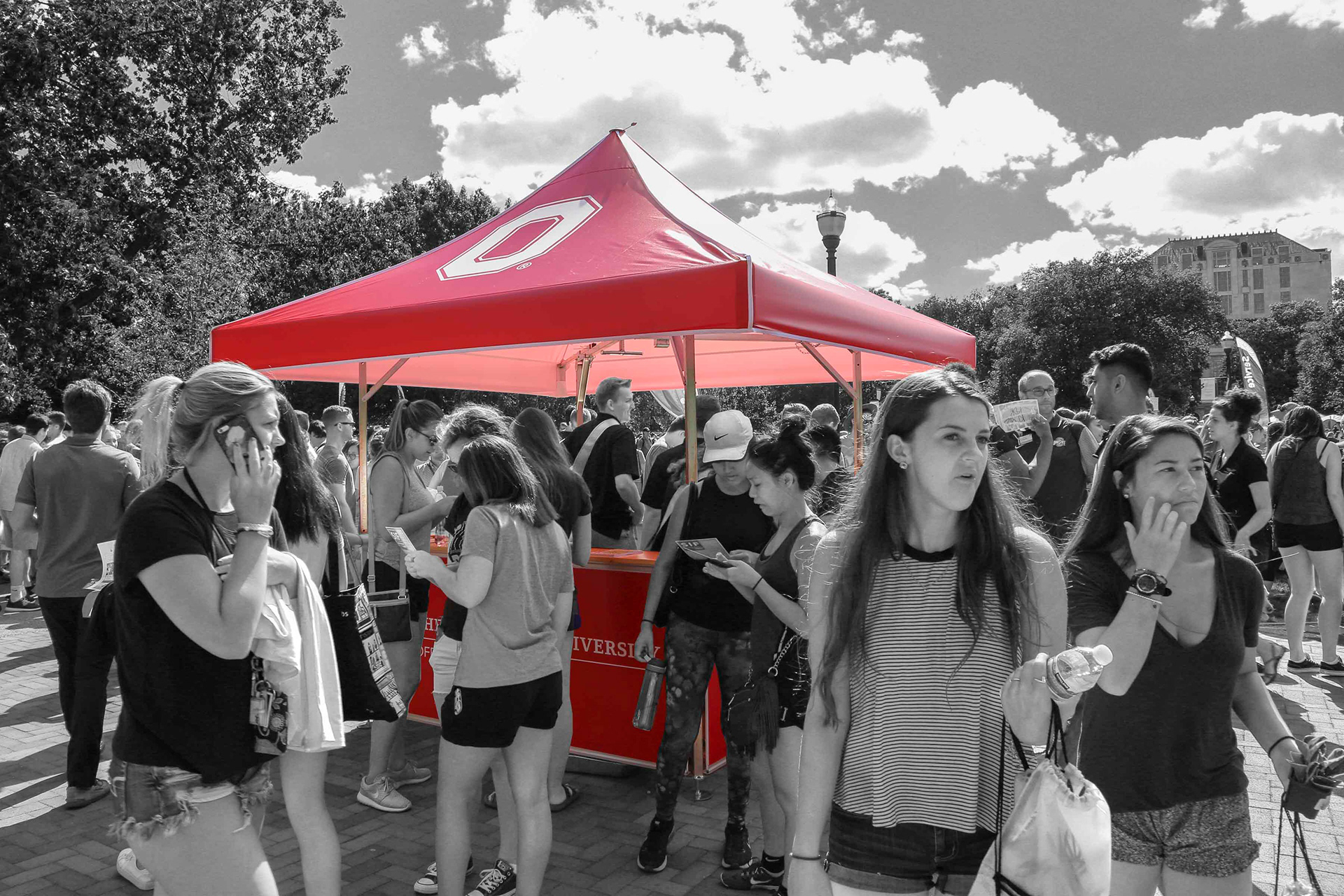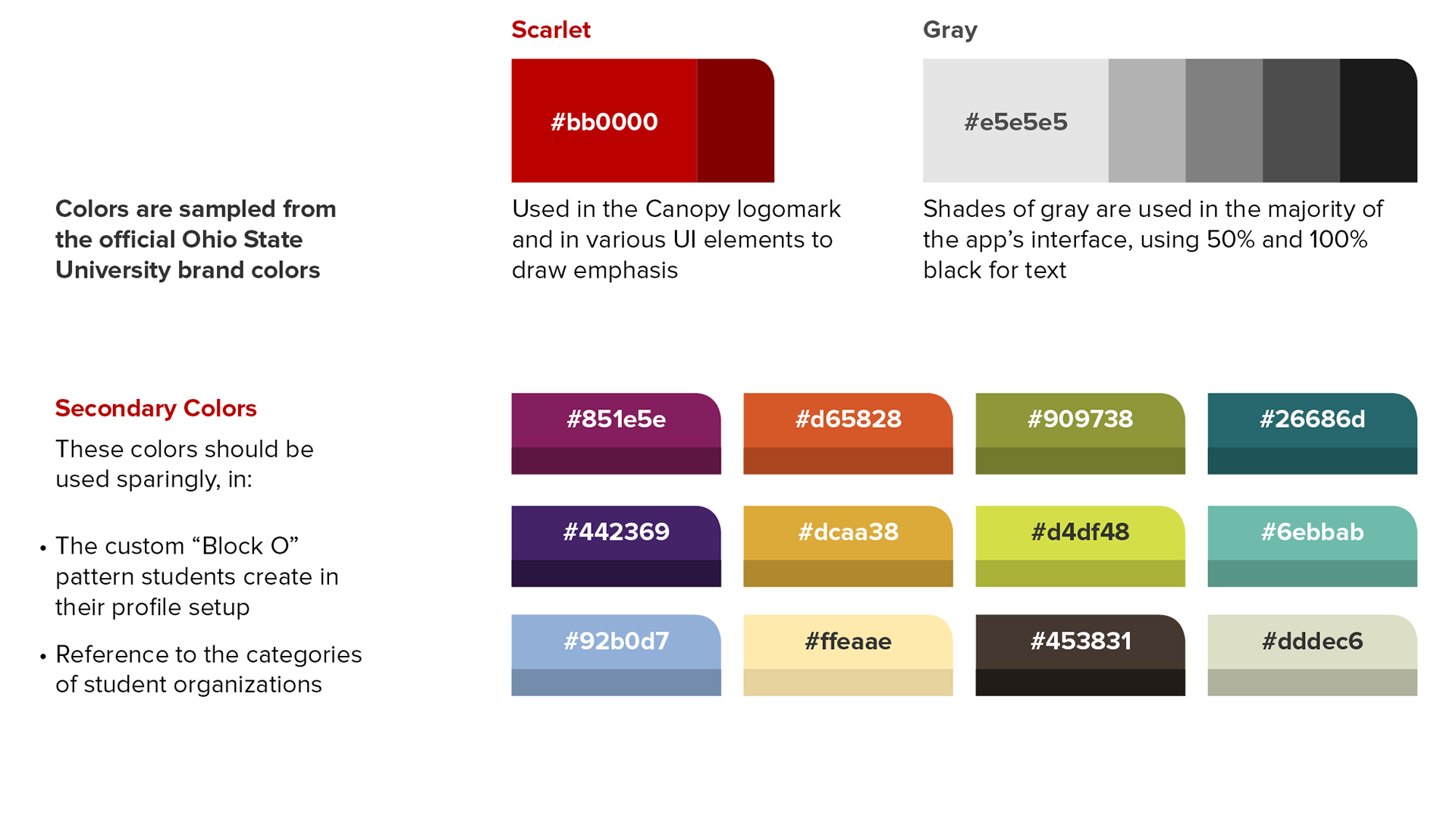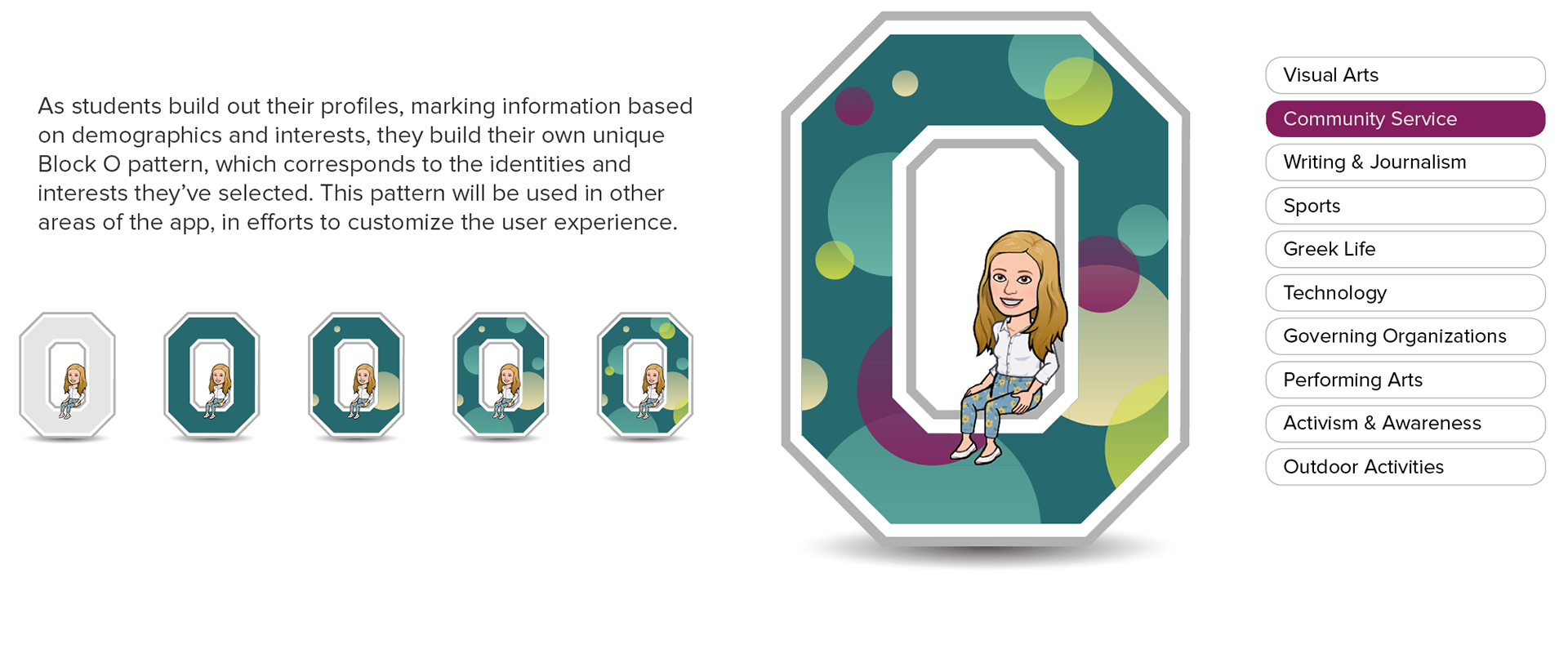 Classmates were given a number of prompts to follow while clicking through the hi-fidelity prototype of Canopy. I noted and fixed all usability errors that arose from difficulties in achieving these goals. Here is a selection of the tasks that were tested: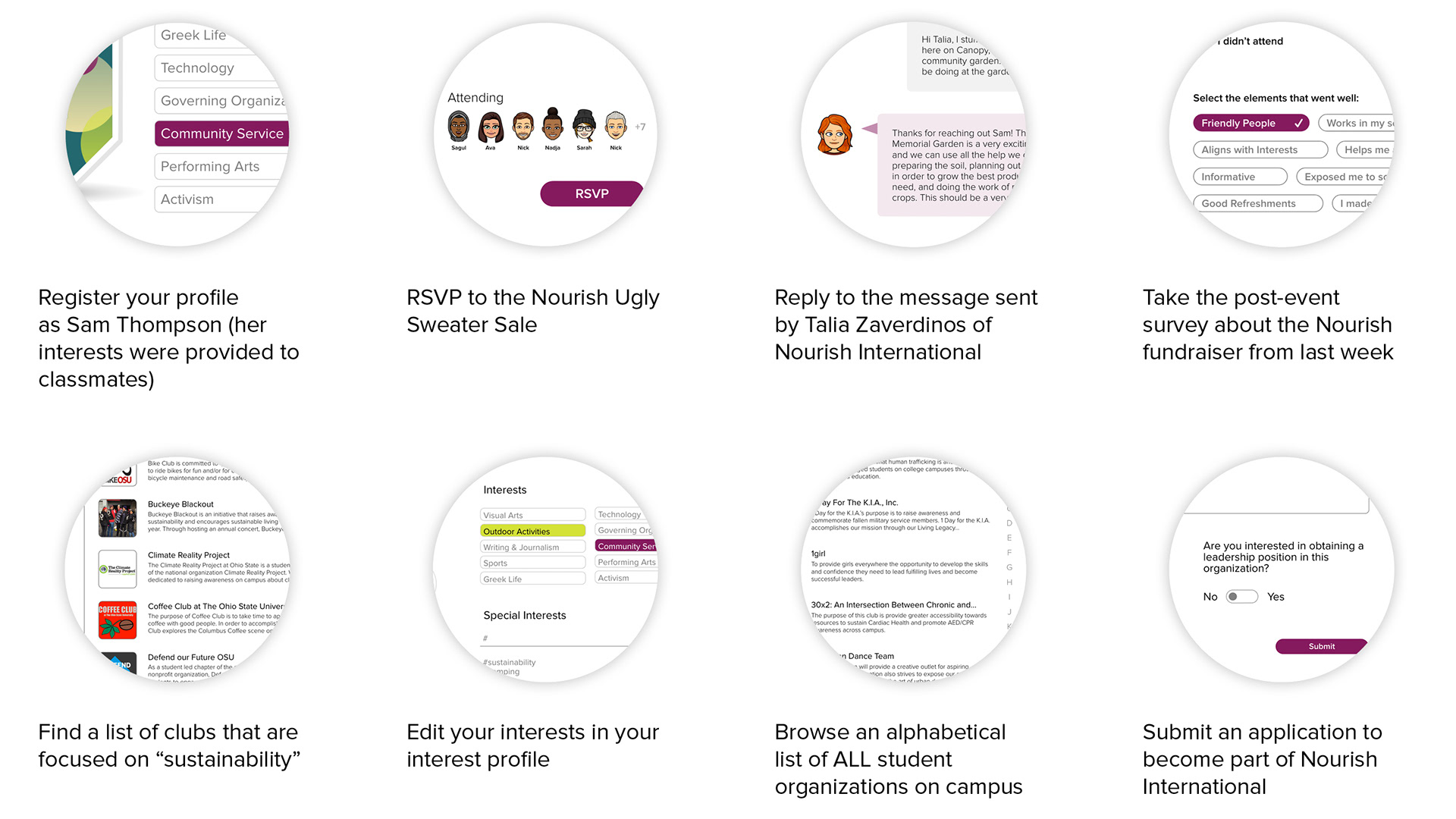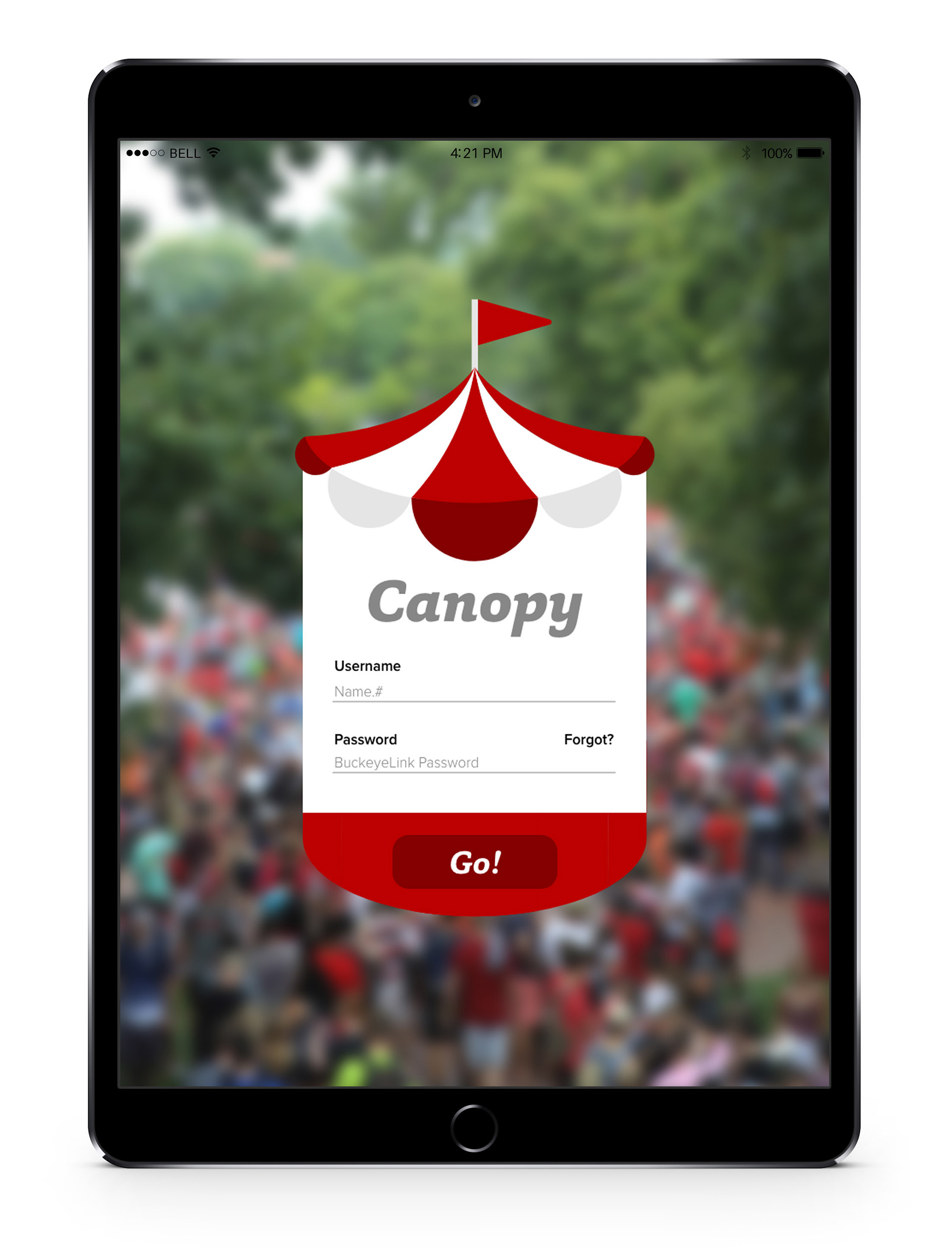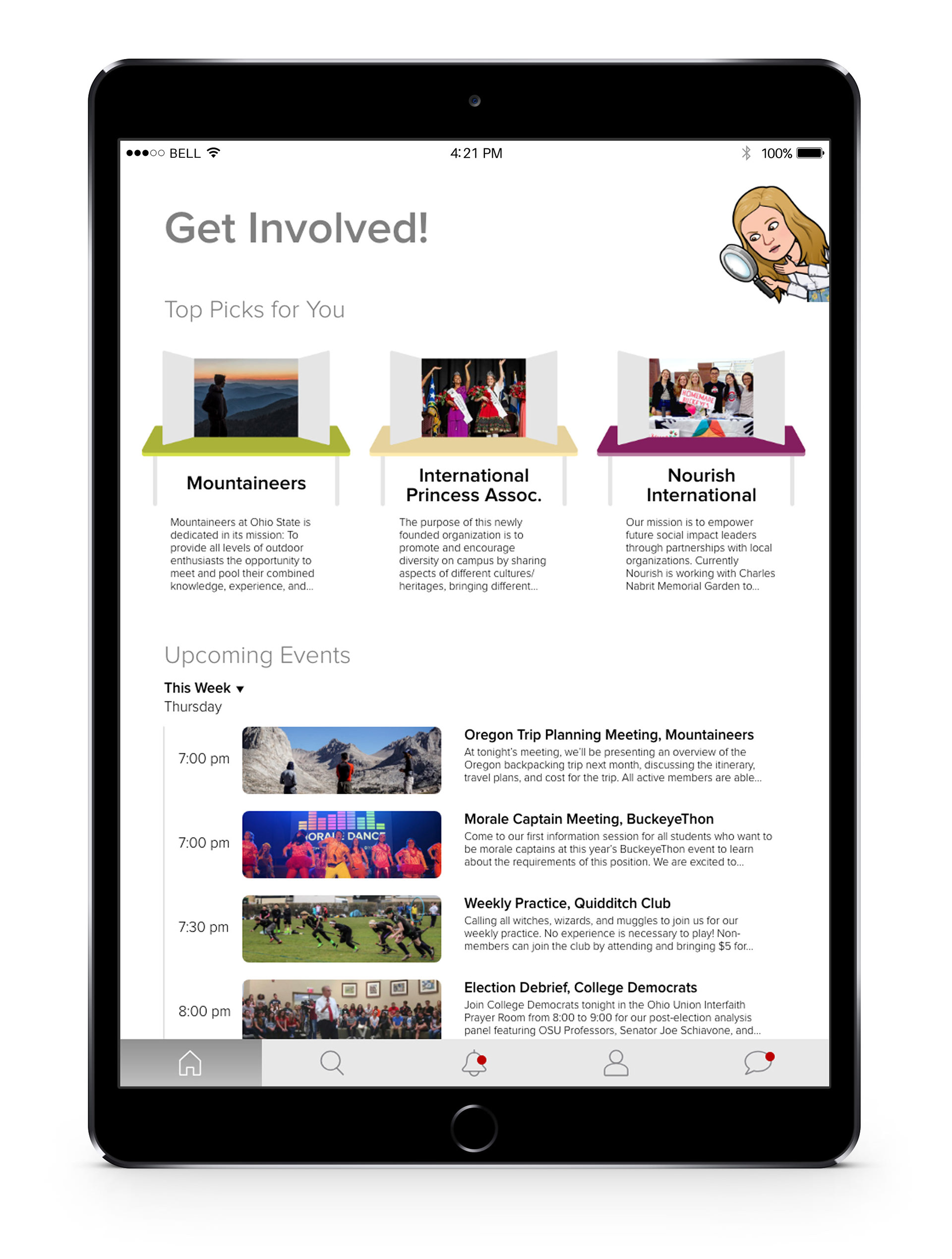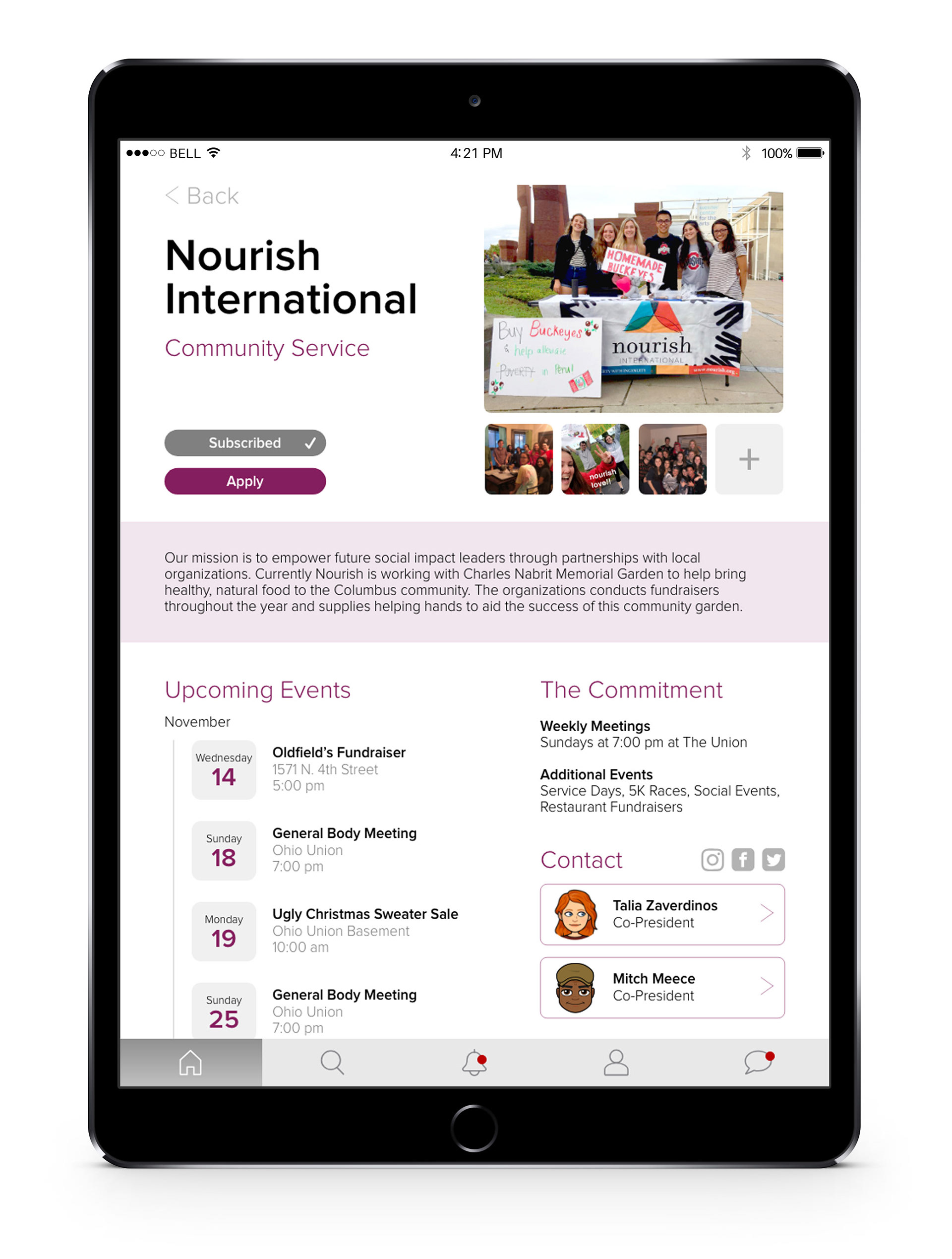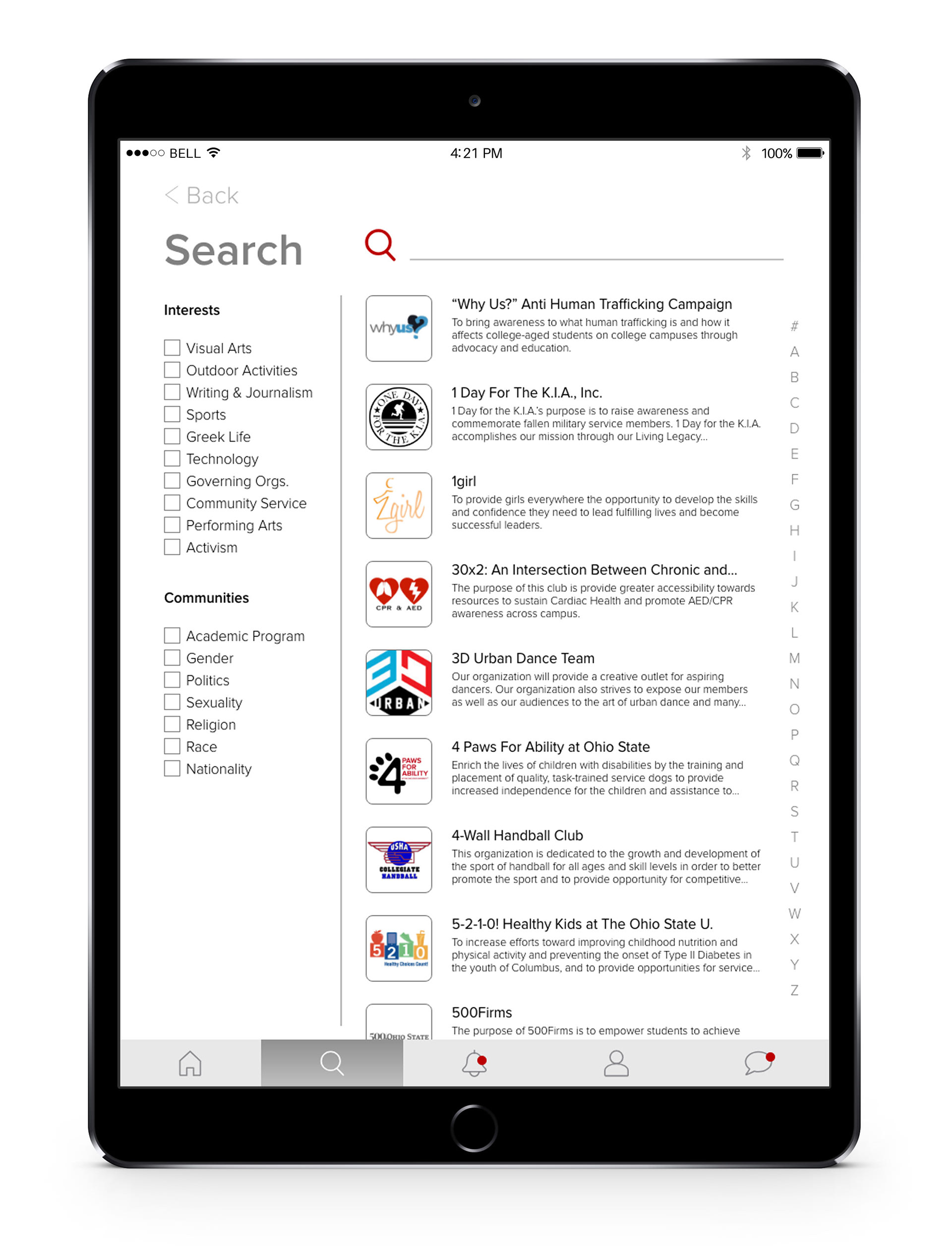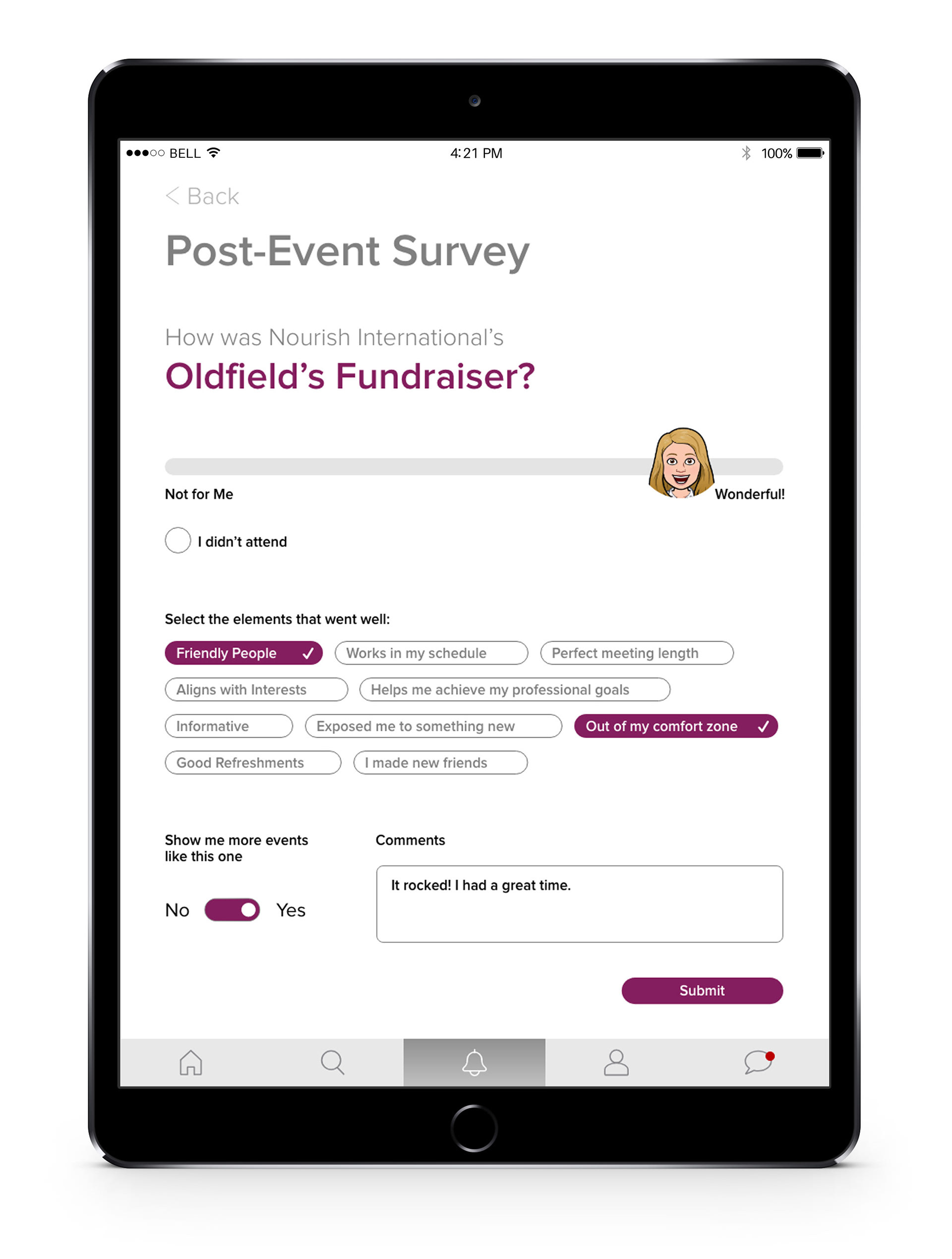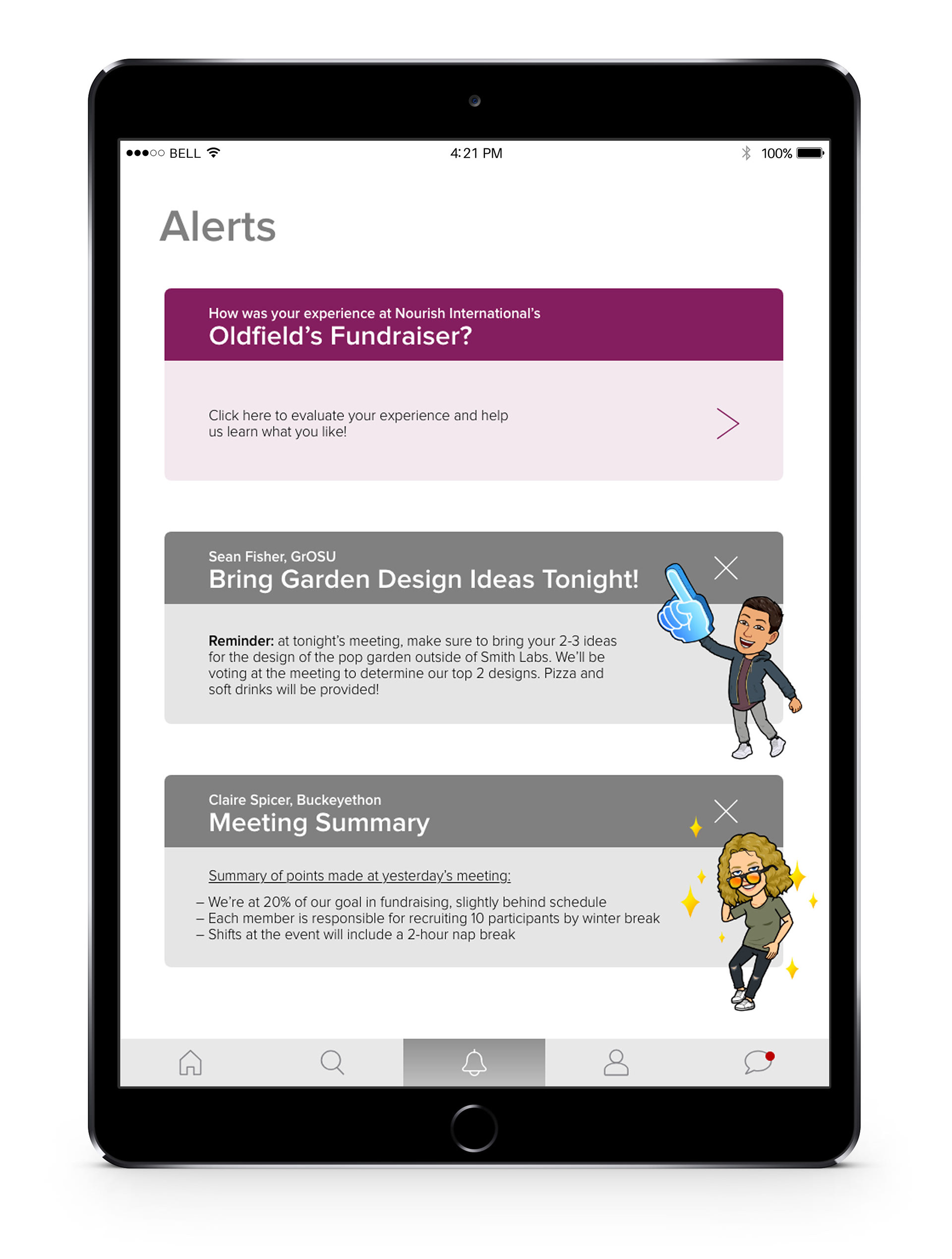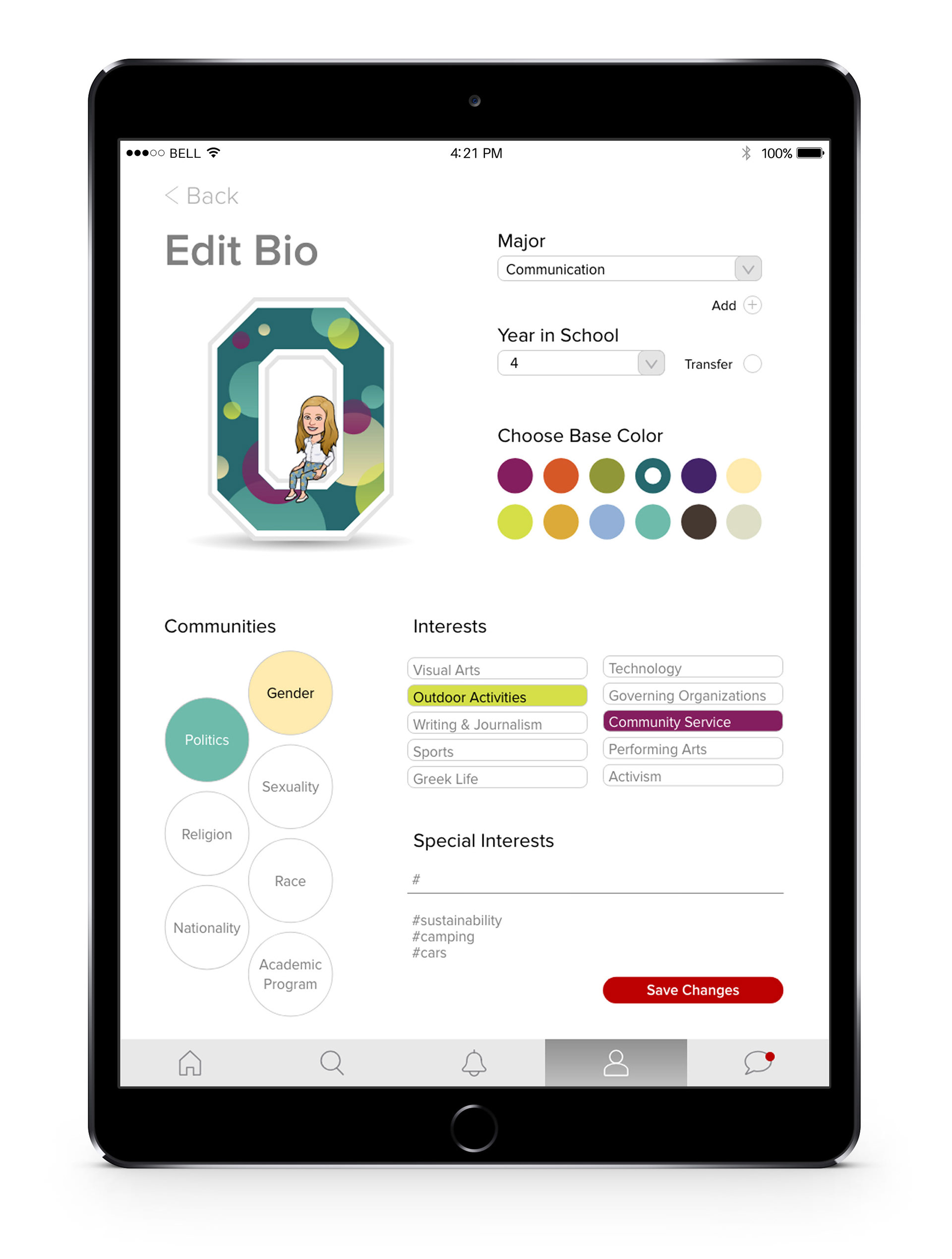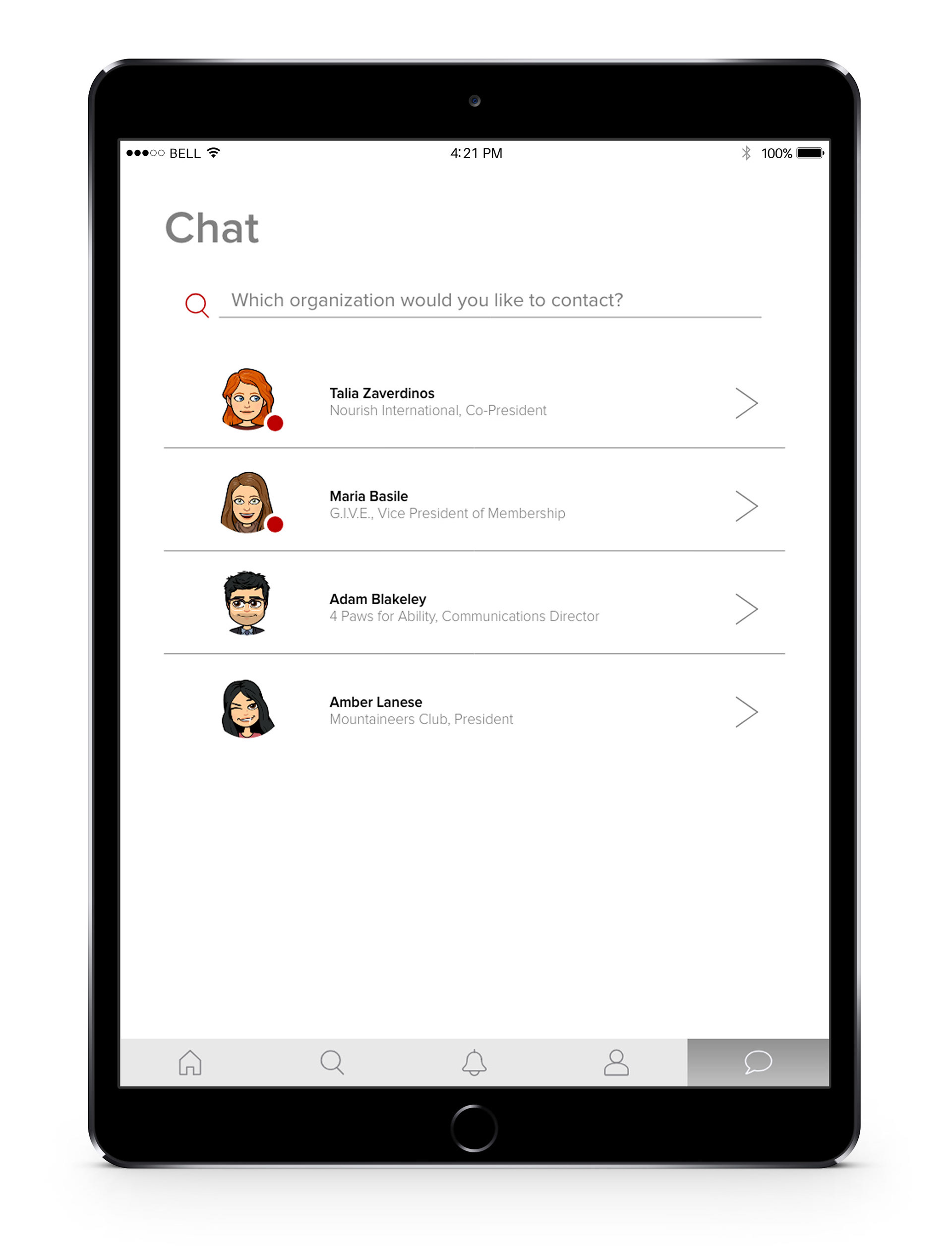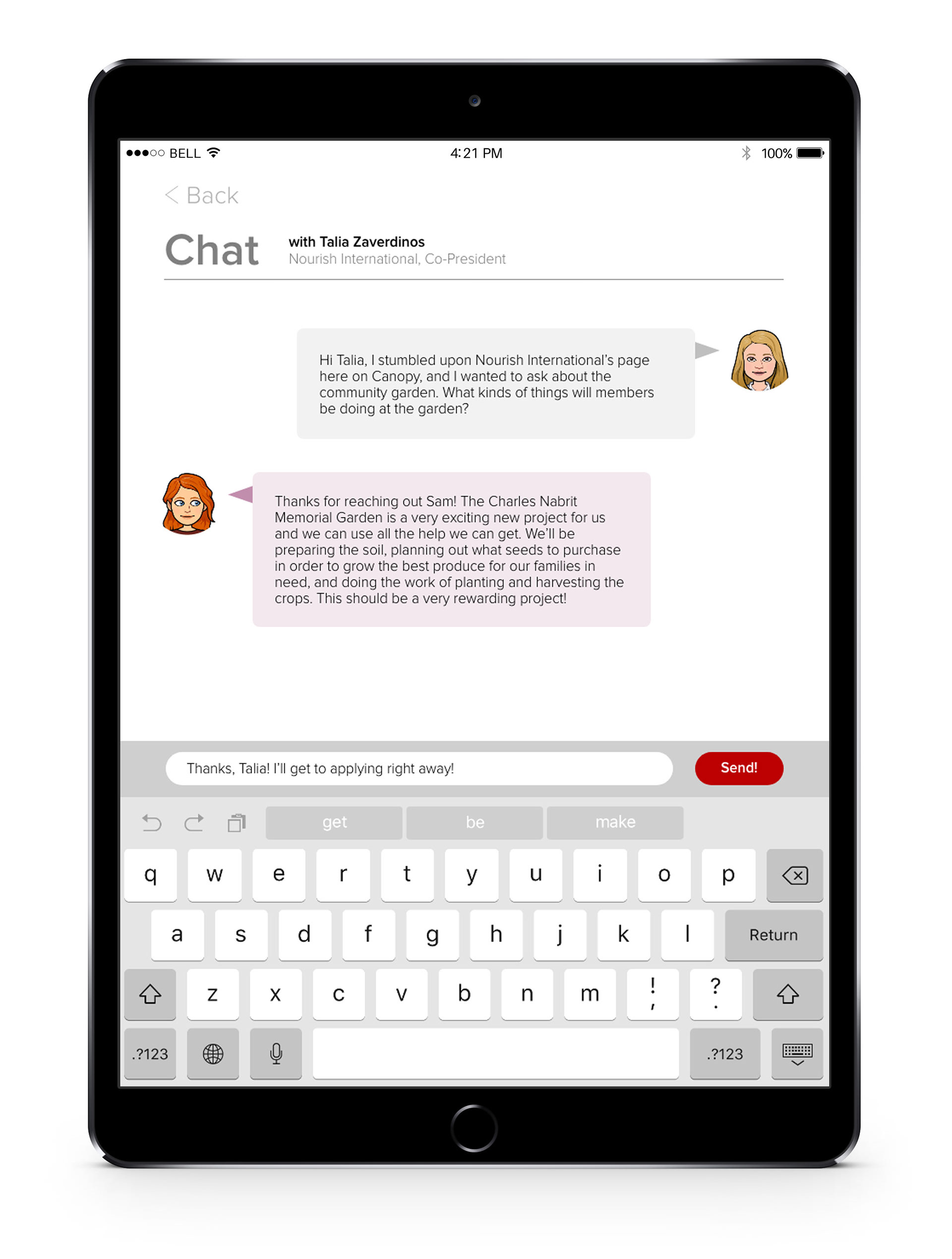 Final Prototype Click-Through